Submitted by
Fergus Keyes
on Thu, 06/04/2020 - 11:35
May 31st 2020
Congratulations to Victor Boyle and the AOH for maintaining the tradition of remembering the 6000+ victims and the caregivers that gave their lives in Black 47.
As most of you know, each year, generally on the last Sunday in May there is an organized "Walk to the Stone" but, of course, the virus scares of 2020, required that the event be cancelled.
But Victor, bringing along a nice wreath, and saying a quick prayer at the site, ensured that there was still a remembrance in 2020.
We did wrestle with the idea of making this event more public but with no idea of how many people might attend we didn't want to be accused of ignoring the virus guideline. (However, after a week of 30+ degree weather, on Sunday at 1pm, the temperature had dropped to only 12 degrees Celsius, so that might have limited the participation). In the end, we decided to err on the side of caution and not make any pubic announcement.
We definitely look forward to joining the AOH of the Walk of 2021 and that it will be bigger an better than ever !!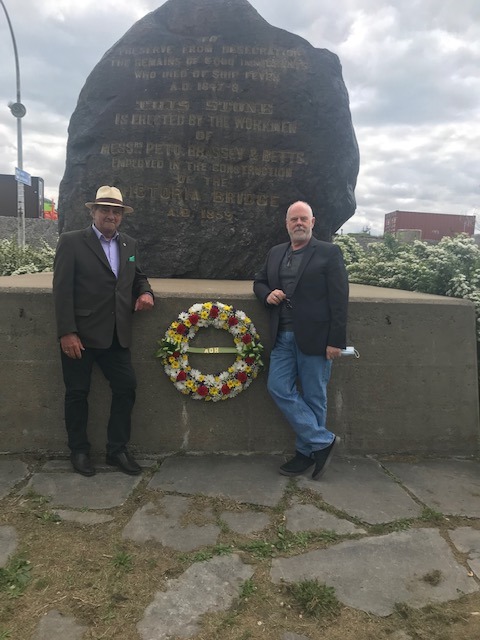 Victor Boyle is to the right in the photo